今天给大家带来一篇我们在国外读到的一篇很有深度的文章,这篇文章由知名的BIM建筑师Antony McPhee于2017年2月28日发表在他的博客上。我们做了全文翻译,并录制成视频,希望能给你一些启发。
BIM can seem complicated at times, but is it really?
Certainly BIM processes and procedures can end up being complicated, just try and and understand some of the standards that are being pushed.
If only there was a way to cut through the guff, to have a simple set of principles that could be applied in any situation where BIM is at issue.
BIM有时候看起来挺复杂,果真如此吗?
诚然,BIM的流程和程序是挺复杂的,你试着去理解一些相关标准就明白了。
如果有办法把复杂的废话都砍掉,只保留一些最基础的原则,去应对所有BIM面对的争论和困境,那就好了。
Like in Mathematics. Mathematics is all about logic, but that logic has to be based on something, has to start somewhere. This is where Axioms come in. An Axiom is "a self-evident truth that requires no proof". Maybe that is a step too far for BIM. But what about a "universally accepted principle or rule".
Axioms have to be basic otherwise they are hard to apply. Euclid's first for geometry is "A straight line segment can be drawn joining any two points.", the second "Any straight line segment can be extended indefinitely in a straight line."
Could we do the same for BIM? Have some "universally accepted principles."
就像在数学领域中,讲究的是逻辑推理,而所有的逻辑推理都是基于一些最基础的东西,逐渐推演开来的。这些最基础的东西,就是公理。
所谓公理,就是一些不言而喻、无需证明的事实。
公理必须是极其基础的,否则就很难使用。比如欧几里得几何中的第一公理就是「任意两点之间可以画一条线段」。第二公理是「直线可任意延长」。
当然,把「公理」这个说法搬到BIM领域中,有点扯远了,那我们换个说法,叫「普遍的原则或规则」。
我们能不能给BIM定义一些类似这种「普遍的原则或规则」呢?
DEFINITION of BIM
First we need to be clear about what we are talking about, what we mean by BIM.
BIM is a generic term for anything that involves software that directly associates data with geometric information.
The term BIM is used to describe the thing - the Building Information Model, the process - Building Information Modelling and management - Building Information Management.
Usually BIM applies to buildings, or facilities, but may be applied to other things like infrastructure and GIS (Geographical Information System). Really anything in the built environment that has a physical form and meaningful data.
BIM的术语定义
首先得明确,我们谈论的BIM是什么。BIM是一个通用术语,它包含了所有能把数据与图形直接结合起来的,软件和操作。
BIM可以指代一个事物——建筑信息模型(Building Information Model),可以指代一个过程——建筑信息化模拟(Building Information Modelling),也可以指代一种管理模式——建筑信息化管理(Building Information Management)。
一般来说,BIM应用于建筑或构件,但也可能与其他系统结合使用——比如基础公共设施,或者地理信息系统。简而言之,一切建造环境中的、有物理形状,且携带数据的事物,都可以与BIM进行关联。
The AXIOMS
So now we are on the same page what are the essential axioms we can use to apply to BIM topics and issues.
公理
现在我们就哪些基本公理可以用于BIM话题和问题,达成以下共识。
1.BIM can be used by anyone for anything.
BIM is not limited to certain purposes or particular groups.BIM is not just for design, construction or operation. It is not just for design analysis, clash detection, facilities management. Nor is is just for buildings, infrastructure or GIS. The data in BIM models is agnostic, it doesn't care who uses it or for what purpose.
It can be used to educate, to inform, in contracts, to create VR, for disaster planning, even preparing terrorist attacks .
Allied with this is there is no theoretical limit to the type of data. If there is data that you would find useful you can add it (or pay someone to add it). Just don't expect someone else to do it for free - see Axiom 2.
公理1:BIM可以被任何人用来做任何事。
BIM并不被限定于特定目的,或者特定团体。它不仅仅是用来做设计、施工或运营维护。它的功能也绝不仅限于设计分析、碰撞检查、施工组织管理。同样,它的应用领域也不仅限于建筑、公共设施、或地理信息系统。BIM数据是不带感情的、中立的,它们不在意谁来使用它们、以什么目的来使用它们。
它可以被用于教学、报告、合同中,用于创造虚拟现实场景、灾难疏散计划,甚至是恐怖袭击演习。
相应地,关于BIM携带的数据也没有理论上的限制。任何你认为有价值的数据,都可以自己加入,或者付费让别人加入到BIM模型中去。——当然你不能指望谁来免费帮助你加入这些数据。
2. The BIM you do directly benefits what you do.If not, you are doing someone else's work for them.

The reason you use BIM software and processes is to improve the efficiency and quality of the work you do and are responsible for.
If you don't think you are, apply Axiom 1 - BIM can be used for anything, and work out how it could benefit what you do.
This Axiom is not just about personal gain. This is an important aspect of BIM. Processes where each participant is benefiting will always be more robust, have greater take up, and longevity.
But more importantly it is critical participants only work within their area of expertise and responsibility. Architect's should not use BIM to do structural analysis. Design professionals and contractors should not be responsible for providing data that is specifically structured for FM purposes.
Providing data to others is fine, but providing data that is fit for someone else's purpose is a step too far.And unnecessary.
Structured data is accessible no matter how it is structured. Standards may help if those standards are adequate, but lack of standards does not make it an impossible task.
公理2:你在BIM上做的事情,直接为你自己的工作产生利益。——否则,你一定是在为别人干活。
使用BIM软件和方法的原因,一定是为了改善自己所从事、所负责工作的效率和质量。如果你没觉得如此,请参考公理1——BIM可以做任何事情,只是你需要搞明白怎么从中受益。
这条公理不仅说的是个人提升,而是包含整个团队的提升——这一点对于BIM来说尤为重要。在一个团队协作流程中,每一个参与者的获利都能够被放大,让整个团队的生命力更加旺盛。
更加重要的是,每一个参与者,都只是在自己的专业领域,和职责范围内参与协作。建筑师不会用BIM去做结构分析,设计人员和施工承包商,也没有义务为了物业设施管理,去提供特殊构建的数据。
为他人提供数据是OK的,但为满足他人的目的,专门提供特殊数据,就走的太远了,这对于任何人来说都没有必要。
当然,如果有结构化的数据你是可以轻易调用的,无论它是怎样构建的,前提是有充足的标准去构建这些数据,然而由于缺少标准,使得完备的结构化数据构建,成为一项不可能完成的任务。
Contractors should be responsible for extracting the data they need for construction from design consultants data, FM consultants should be responsible for extracting the data they need for operations from contractor's data, realtors responsible for extracting the data they need for sales from FM data, etc...
So if you find yourself in a situation where what you are doing is of no benefit to what you do, you are within your rights to say no, - we don't do that, or demand to be paid to do it.
Conversely, if you are doing it for your own purposes and someone else is benefiting from it, you give them free access to it, after all it is not costing you anything.
施工承包商有责任,在设计机构提供的数据中,提取自己需要的施工数据;运维人员有责任在施工方提供的数据中,提取自己需要的运维数据;地产商则是有责任在运维数据中,提取自己需要的销售数据,等等。
所以,当你发现你需要处理或提供的数据,不能直接为自己的工作带来好处的时候,你是有权利拒绝的——不好意思,我们不做这个,或者说,我们不免费做这个。
相反地,如果你正在处理和提供的数据,本来就是为了满足自己的目的,而同时为别人开了一个端口,来免费搭顺风车,这是没什么损失的。
3.BIM replaces or enhances something you already do.
BIM is something you do instead of other less efficient and less accurate methods.
If you are following Axiom 2 - you are using BIM for your own benefit, you will be using it to do things you were already responsible for.
You don't draw in Autocad AND model in ArchiCAD, you don't manually create a schedule in Excel AND create the schedule in Revit.
You don't do a structural design by linking an analysis package to your model AND calculate it all out with pen, paper and calculator.
You don't use a BIM model and a total station to set out ceiling hangers AND measure them out with a measuring tape.
You don't have a room full of drawings & folders AND have an integrated FM database.
This also applies to management. There may be a new position called BIM Manager, but it isn't a new profession. It's a manager who uses BIM to do the things managers do already.
BIM is a tool to get things done. It is not a thing in itself. If you are doing BIM for no measurable purpose you are wasting your time.
公理3:BIM取代或提升你当前已经在做的部分工作
BIM这种工作方式,实际上是代替传统方式中低效率和低精确度的那部分工作。
如果你遵从公理2——你是为了自身利益去使用BIM技术,那你应用的点一定是你已经在负责的工作,而不是创造出一个自己不需要的工作。
比如,你不可能既在autoCAD中画一份图纸,然后又去ArchiCAD中建立同一个项目的三维模型;你也不可能手动的在Excel里建立一张施工规划表,然后再去Revit中再重新建立一张表。
你不可能靠一个有计算功能的插件来设计结构模型,然后再用纸、笔和计算器去验算结构的安全性。你也不可能靠BIM模型和全站测量仪在确定了天花吊顶标高,然后又去手动地用卷尺去测量它。
你也不可能一边有一屋子厚厚的文件夹和图纸,同时又有一个完备的综合运维数据库。
对于项目管理人员也是一样的道理,或许一个项目中,会有一个新的职位叫做BIM项目经理,但是注意,这可不是一个全新的职业,而只是原来的项目经理,装备了新的BIM技术,他管理的还是原来的那一摊事儿。
BIM是为了解决麻烦而应用的,它并不是麻烦本身。如果你和你的团队为了做BIM而做BIM,又没有什么可量化的目标,那这可就是浪费时间了。
4. BIM is not possible without BIM capable software.
BIM is fundamentally a technology of a particular type of computer software.
BIM capable software is software that, as a minimum, can store and manipulate geometric information and associate data to that geometry. Software that only does geometry (CAD, SketchUp, Rhino, etc) or just manages data (databases, spreadsheets, etc) are not BIM capable.
BIM is often described as a process, but it is a process of managing BIM capable software. It may involve only managing the output and exchange of that software, but to do that effectively you need an understanding of the abilities and limitations of the software involved. BIM Management ignorant of software issues is nothing more than management by wishful thinking.
There are some who think mandating "OpenBIM" means software becomes irrelevant.
OpenBIM may be developed by committees with high ideals, but it is still software (or software format), it still has a fixed form that people have to try and use to get things done. BIM softwares that are used in the real world have to be able to interact with "OpenBIM" formats or BIM processes will not be possible.
When it comes to BIM you always have to consider the impact of the softwares being used.
公理4:脱离软件谈BIM,都是耍流氓。
从根本上讲,BIM就是一群特定的、具有「BIM功能」的电脑软件组成的技术。
所谓具有「BIM功能」的软件,就是指那些,至少能够储存和操纵图形,并能够把附加信息关联到这些图形上的软件。
举个反例,只能够创造图形的,而不能附加关联信息的软件,比如autoCAD, SketchUp, Rhino,就不是BIM软件。
同样,只能管理非几何信息的软件,比如数据库或电子表格,也不是BIM软件。
BIM经常被称为「过程管理」,但别忘了,所谓过程管理,管理的恰恰是这些具备BIM功能的软件。可能你需要管理的是数据的输出和交换,但为了达到这个目的,你必须对这个数据的来源——也就是涉及到这个数据的软件本身的功能,和局限性有深刻的理解才行。
脱离对软件的了解就想搞定BIM管理,只能是痴人说梦。
关于「OpenBIM」,有些人认为依靠它可以让软件变得不重要,意味着数据可以脱离于软件,被使用任何BIM软件的人随意调用和交换。这或许是一个可以实现的终极理想,但这个理想本身一定还是基于一个软件,这个软件也许可以通过兼容一切数据格式,来解决当前各方数据不兼容的问题。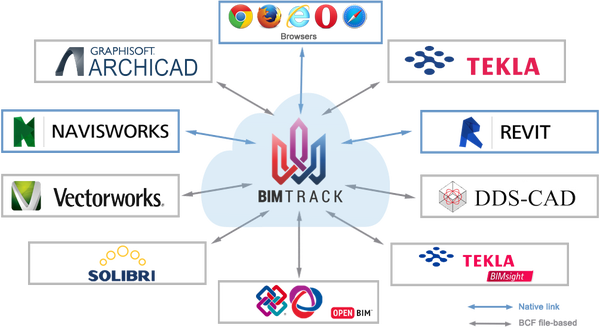 如果这个理想能够实现,那就意味着当前所有BIM软件提供的数据,都能被这个软件兼容,否则就得退出BIM市场。
所以说,谈到BIM,你必须考虑你正在使用的软件带来的影响因素,这个环节是无论如何也跳不过去的。
5.BIM works best with Collaboration.
Sharing your data means others share their data with you.BIM works best if your combine it with collaboration with others, but you can still use BIM without any collaboration.
An architect can use Revit to just create drawings and schedules but never give the model to anyone. The architect is still doing BIM, benefiting from it by being more efficient and accurate, even though there is no collaboration.
If you think about it BIM can't just be collaboration. If none of the collaborators produce or can offer BIM, how can there be any collaboration? There is nothing to collaborate with.
Collaboration is a secondary consideration. Establishing what BIM will be done (Axiom 1), that there is a benefit (Axiom 2), and that it is doing something that it is required because it is already being done (Axiom 3), has to be done first.
But once that happens collaboration is definitely low hanging fruit.
Consider the example above. If the architect share their model with, say, a quantity surveyor who uses the model to measure quantities, the architect will get costing advice much quicker and more often (as will the client), leading to the architect wasting less time on abortive work.
公理5:BIM在协作中能发挥更大价值。
共享你的数据,意味着你能反过来享受他人共享的数据。
BIM技术在你与他人进行协作的时候,会发挥出更大的作用——当然你仍然可以不参与协作而独立地使用它。
一位建筑师可以用Revit建立一个模型,并利用它建立施工组织计划表,然后,他完全可以不把这个模型交给任何人。对于他自己来说,使用BIM技术依然会带来好处——提高设计效率和设计质量,即便这个过程中他完全不和任何人进行协作。
其实你仔细想想,BIM不可能只协同,不工作。如果在一个协同流程中没有人安排任务,也没有人做具体的工作,那还谈什么协作?没什么可以协作的嘛!
协作是作为次级重要的事情去考虑的,那什么是首要的呢?根据公理1确定要做什么,根据公理2确定工作的具体利益目标,根据公理3找出目前的工作流程中,哪些是可以被提高或替代的,这些才是首要的任务。
而一旦这些任务被明确了,所谓协作也就容易的多了。
举个例子,比如一个建筑师能够在设计过程中,不断把他当前的建筑模型分享给造价师,那造价师就能更高效、更频繁地把成本建议,反馈给建筑师,这也就让建筑师更少地出现失败的设计,而浪费时间。你看,这个协作的过程是自然而然地,不需要有人去设计,造价师免费受益,而最终受益更多的是建筑师自己,这不违反第二公理。
Of course there are other considerations than just the Axioms when looking at BIM.
Some examples I've seen are:

Whether the effort or expense is worth the outcome.

Whether it is possible with current technology and skill sets.

Whether there enough time in the program for implementation.

But these are not principles about BIM, they are problems to overcome.
If it is not worth the effort, how could the effort be reduced, or the outcome enhanced to make it more valuable?
If it is not currently possible when will it be possible, or what is possible now, what is practical now?

Compare how much extra time is required against the benefits. Can the program be adjusted to allow more time upfront?
当然,除了这五个公理,我们探讨BIM的时候还有一些其他的要点。比如说:
应用BIM的收益是否大于成本;
当前的技术和技能是否可能推行BIM?
当前的项目是否有充足的时间来应用BIM?
但这些不是BIM的基本原理,它们只是一些需要被克服的困难。
如果收益小于成本,那能否降低成本,或者想办法提高收益?
如果当前的技术暂时不能实现,那什么时候可能实现?当前能实现到什么程度?
能不能把时间成本和最后的总体收益做一个对比,如果值得的话,能否把一些工作提前处理以带来更多的时间?
USING THE AXIOMS

So next time you are in a discussion about BIM keep in mind the BIM Axioms, they may provide a quick answer to a silly proposition.To recap the BIM Axioms are:
BIM can be used by anyone for anything.

The BIM you do directly benefits what you do.

BIM replaces or enhances something you already do.

BIM is not possible without BIM capable software.

BIM works best with collaboration.
如何使用这五个公理
综上所述,下次你再参与关于BIM的讨论的时候,把这五个公理记在心里,能让你快速解答一些蠢问题。
我们再来回顾一下这五个公理:
公理1:BIM可以被任何人用来做任何事。
公理2:你在BIM上做的事情,直接地为你自身的工作产生利益。
公理3:BIM取代或提升你当前已经在做的部分工作
公理4:没有脱离软件的BIM
公理5:BIM在协作中能发挥更大价值
Have a go at this quiz to see how easy it is (answers below).Which axiom applies to each of the following:
A. You wouldn't use BIM for that.
B. It's your job to give me the data I need.
C. BIM is a whole lot of extra work.
D. It doesn't matter which software you use for BIM.
E. We can't use BIM because the contract doesn't have collaboration clauses (is not IPD).
(A=1, B=2, C=3, D=4, E=5)
我们来做一组测试,来试试看能够回答哪些问题。
A:你不能用BIM干那些事。(可以用公理1来回答)
B:你得给我这些数据,这是你份内的事儿。(可以用公理2来回答)
C:BIM会额外增加一大堆的工作。(可以用公理3来回答)
D:用什么软件你自己定,都可以。(可以用公理4来回答)
E:合同上没写合作条款,所以我们没法用BIM。(可以用公理5来回答)
Supplementary quiz for the dedicated:
A. You can do BIM with CAD software.
B. It is extra work to get our schedules out of Revit.
C. The primary purpose of BIM is for facility operations.
D. We can't use BIM because there is no BIM Execution Plan.
E. COBie doesn't cost anything.(A=4, B=3, C=1, D=5, E=2)
再来一组补充测试:
A:你用CAD软件弄个BIM不就完了。(可以用公理4来回答)
B:在Revit模型中提取时间管理表是浪费时间。(可以用公理3来回答)
C:BIM的首要工作就是设备管理。(可以用公理1来回答)
D:没人制定总体协调方案,我们没法用BIM(可以用公理5来回答)
E:COBIE(建筑施工信息交换)没啥成本(可以用公理2来回答)